Different Types of Float Switch and Their Prices
There are a number of different types of float switches, each with their own advantages and disadvantages.  Most designs can be made to different specifications to suit the ruggedness requirements of an application. These designs can be manufactured with low cost plastic and st/st Chinese imports starting from just £5.00, high end one piece st/st or exotic material switches with large flanges exceeding £1000.00 each.
This blog article aims to summarise the various switch options, highlighting information for each type so that you can choose a starting point in deciding a switch type, specification and supplier.  Of the two main categories (vertical and horizontal switches), we have sub categorised into low cost/OEM switches, mid-range industrial versions and high end representing the most rugged versions.
Paddle Float Switches
Sometimes called cable float switches, these types of switches are normally very low cost £5 to £50 and often used for basic level or pump control in water based applications such as sump pump or sewage pits.
Cable float switches can cause numerous problems and as such are rarely used for industrial applications, due to the range of movement required and repeatability at a switch point being the specific issues. That said, they are generally very good and reliable for the water industry applications that they are designed for and can be suitable for individuals and applications around the house.
Key manufacturers of paddle/cable type of float switches are Finetek, Tameson with a number of pump and plumbing suppliers badging their own versions.  Amazon, Ebay, RS Components and Farnell stock different variation with quick deliveries.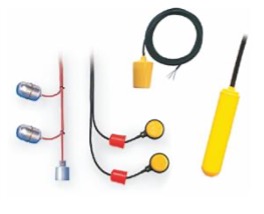 Vertical Float Switch
Probably the largest range of variations and options available for float switches comes from vertical float switch manufacturers.  To make the analysis easier these have been categorised into different types of float switches; low cost and miniature switches, mid priced industrial switches and high end expensive switches.

Low Cost and Miniature Vertical Float Switch
At the low cost end of the market are the cheap miniature float switches, normally available in a range of plastics and stainless steel with a fairly wide choice of options.  These switches start at around £3-£25 for the single level versions that are imported from China or India.  These are regularly used for applications around the house and for some low pressure, low temperature pump applications where reliability and longevity can be sacrificed for price.  Online retailers such as Amazon and Ebay would be the simplest place to purchase switches at this price point and quality.  Feedback online for these products are mixed, due to the price they can be prone to early failure.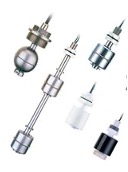 Where a higher level of repeatability is needed, single or multi level stainless steel miniature switches can be purchased.  These tend to start at around the £25-£30 price and may look similar to the lower cost products, and may include some Chinese or mass produced components, but are often assembled in house with more rigorous testing and better quality control in the manufacturing process.  Again these are most easily purchased from online shopping retailers.
The next level versions of OEM or miniature switches may look similar but start at the £30-£50 price point and can go up beyond £150.  The difference in price can be down to one or more reasons including improved manufacturing processes for reliability, greater wall thicknesses of the components for more durability, additional specifications or simply because they have been produced in a Western factory using tighter quality restrictions and higher labour costs.  These switches are normally manufactured by engineering businesses for industrial OEM applications such as for pump manufacturers, water level and other tank level applications where the risk of them being damaged is minimal, or access is restricted but quality needs and reduced failure rates are more important.  We manufacture a range of these switches and product custom OEM solutions (more information available by clicking here), other suppliers at this quality and price point include Finetek, Deeter, Cynergy3, Gem Sensors and PVL.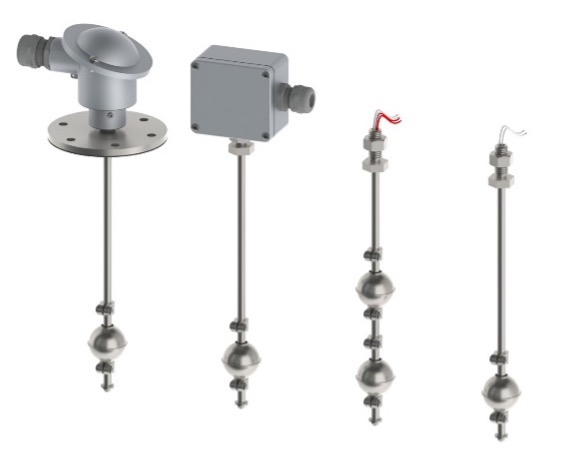 Mid-Priced Vertical Industrial Switches
These switches represent the bulk of those sold into industrial vertical float switch applications as they offer a combination of ruggedness and price to give companies the peace of mind needed that the plant or safety feature installed will work repeatedly in an industrial environment.  Most switches use a design with floats mounted on a vertical rod, some manufacturers use a lever mechanism (e.g. Mobrey/Magnetrol) for their vertical switches, however, these can be costly to buy and install due to them being larger than connection hole sizes, needing to be fitted from the inside, and they also have more moving parts in the tank where the medium sits.  These designs can be useful with fluids that have very low densities (less than 0.5) as they can come with much larger floats with a greater buoyancy for these sg's.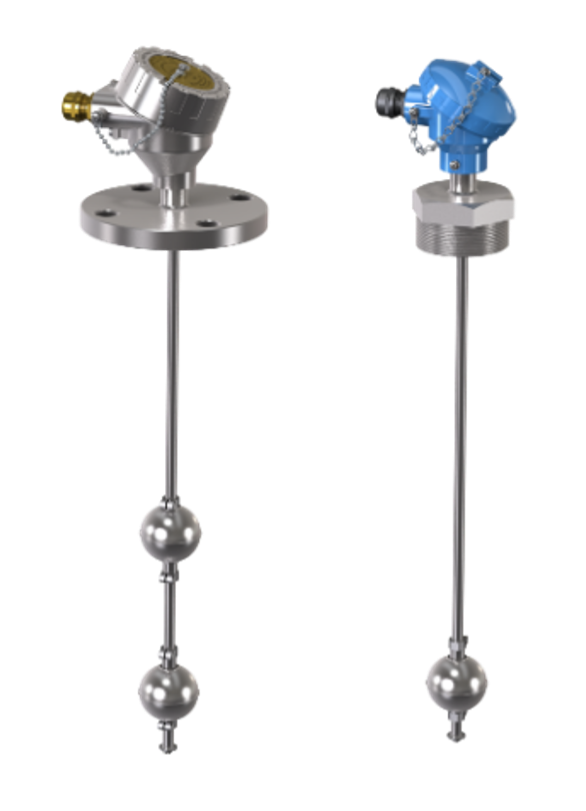 Depending on the manufacturer, prices can range from £180 – £350 for a single level weatherproof float switch with a standard connection head and a screwed or 1.5"-2" flange for a process connection.  An explosion proof float switch version is typically priced at £250-£450 and versions of these with stainless steel connection heads being in the £250-£500 price range.  These prices can vary from one supplier to another so it can be worth shopping around, with more exotic wetted materials and larger process connections adding to the pricing.  Of the companies based in Eastern countries, Finetek are amongst the better suppliers, Eastern European suppliers such as Nivelco offer a high quality well priced range, with Wika (including KSR Keublar) and Deeter being two of the best Western European manufacturers. Delta Mobrey (previously Bestobell Mobrey/Emerson) and Magnetrol are two of the more traditional suppliers manufacturing for over 50 years alongside the Alan Cobham range that we now produce.  The AMS range are competitively priced and include process connection options compatible with other manufacturers to enable easy replacement, for more information on our industrial range click here.
High End Vertical Float Switches
Almost always made completely from stainless steel or an exotic material, there are very few manufacturers who make switches that meet the high end applications that require the ultimate rugged switch that is built to last forever.  These switches usually have a one piece cast or machined from solid body that includes both the process connection and the connection head.  Additionally they often have a wall thickness that goes well beyond the requirements of hazardous area applications so that they can continue to operate even in rare circumstances, such as after an operator has accidently use the head as a foot up to reach another part of a storage tank, or a passing trolley has collided with it.
These one piece designs are usually built to order only due to their higher cost and normally used in critical applications where piece of mind is essential.  Prices usually start around £400 and can rise beyond £800 depending on the process connection specification, documentation and materials of construction required.  GRP I Mining approvals are normally purchased from these range due to the application conditions.  The main manufacturers in this category include ourselves (previously Alan Cobham Engineering and Meggitt range), Delta Mobrey and Magnetrol.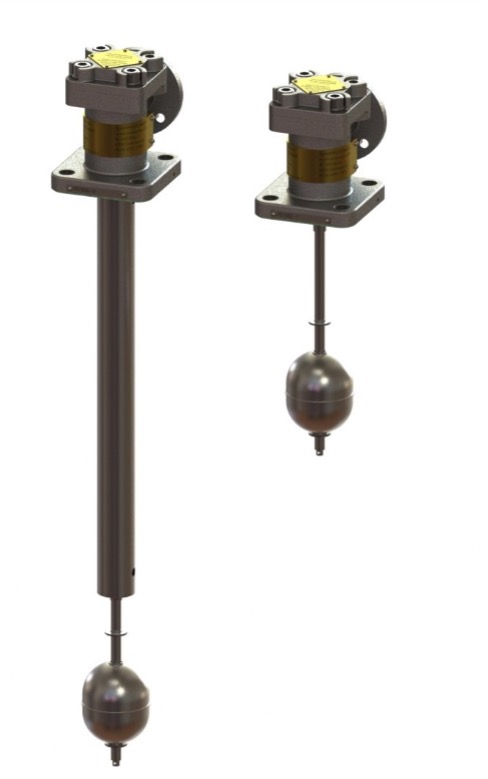 Horizontal Float Switches
Horizontal switches have the same types of float switch sub categories as the vertical float switches to enable better comparison.
Low Cost OEM and Mini Versions
These are generally made from cheaper or thinner stainless steel and plastic materials. They are best suited to home applications and protected water tank installations where repeatability and failure rates are not deemed important, although some switches at the higher end of the pricing (£100 to £150) do offer very good performance for the money.  Pricing is similar to vertical switches with the horizontal mini switches ranging from £5 to £150 with suppliers similar to the vertical switches, individual requirements are best sourced via online retailers, whilst OEM or repeated purchases will probably get a better deal direct from the manufacturer
Industrial Side Mount Switches 
These can start from £150 and go up to £500 with Delta Mobrey, Besta, Nivelco and ourselves offering a competitive version. This group has the widest range of specifications and options available and can include a various connection head materials, process connection options and wetted materials choices.  They are normally suitable for 80%+ of industrial applications, with only the most demanding or safety critical applications needing to consider anything better. For more information on the AMS side mount industrial switches, manufactured in the UK, please contact us.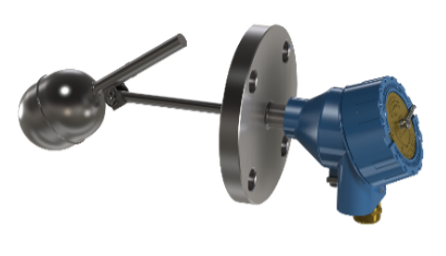 High End Side Mount Float Switches
Like the vertical switches, we have classified these as high end as those supplied with a one piece body and a process connection construction with an increased wall thicknesses provides a greater degree of protection from damage or harsh conditions.  These are the go to fit and forget devices for safety applications.  We have removed switches of this type from power stations after 40 years service simply because the customer feels they aught to replace them.  Due to the rugged nature, these switches are normally able to be refurbished.  Prices are normally in the £300 to £600 bracket, although we have seen some suppliers pricing reaching the £1000 mark, so again it can be worth getting multiple quotes.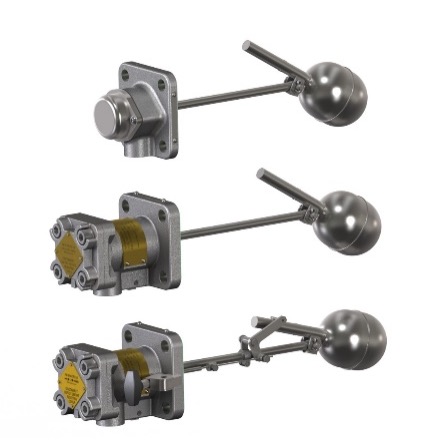 Displacer Float Switches
Displacer float switches offer a flexible alternative to vertical float switches in applications where the switch point may change and where floating roofs or other moving obstacles exist.  Instead of being on a fixed stem, the floats are fixed to a steel wire, however, unlike the paddle float switches, the switching takes place near the connection head on a spring based mechanism, and the location of the float on the wire can be changed to the desired switch point.  When the fluid or obstacle reduces the weighted floats pull on the spring, it compresses and the magnet sleeve moves over the switch.  The version shown is a high end engineered version with a checkable lever installed to allow operators to manually check the switch is operating.
Industrial versions of these switches range from £300 to £500 with the more high end versions starting around £500 and reaching prices of £750+.  There are only a few suppliers of these switch types, Wika (TC Fluid/Keubler), Magnetrol and AMS.  For more information on our displacer switches contact us.

Checkable Switches
Some manufacturers offer a checkable function for their industrial and high end float switches.  These switches include either a lever to pull a float to check its operation, or the ability to push a float.  Magnetrol call their checkable system a Proof-er on their displacer switches, Nivelco offer a test facility on their side mount switches, Cynergy 3 (owners of the TAV version) and AMS.  This function can add between £30 to £150 to the cost of a switch, depending on the style of checking and number of switch points.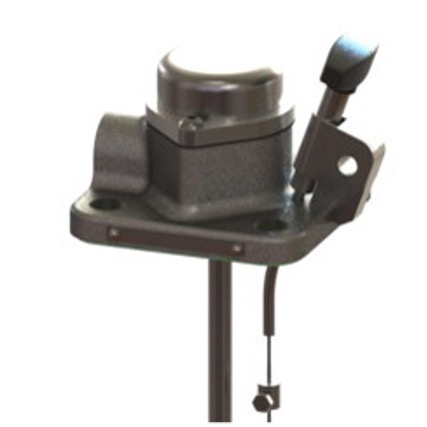 The float switches AMS manufacture were originally supplied by Alan Cobham Engineering (see our news story on purchase of products for more information) and have been manufactured in the UK for over 50 years.  We continue to manufacture float switches in the UK from our premises in Cornwall with a wider range of connection options and bespoke solutions now available to suit more applications, for more information please contact us, download our literature or visit the level switch section of our website.
Check out our downloadable documents for more information.
Stay up to date with our monthly newsletter
Check out our latest blog articles below…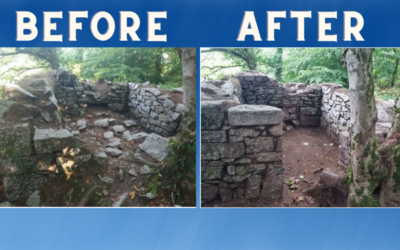 Crib Hut Heritage Conservation ProjectThe team at AMS Instrumentation & Control Ltd all have the option to take a week's additional paid leave to do charity work if required, so when the opportunity arose to volunteer with the Cornwall Heritage Trust to conserve...
read more