What does sustainability in business mean?
Sustainability can be defined as  "the ability to be maintained at a certain rate or level". There are three pillars of sustainability in business; environmental, economic and social. 
Environmental sustainability is the conservation of natural resources and protection of global ecosystems to support health and wellbeing, now and in the future. Because so many decisions that impact the environment are not felt immediately, a key element of environmental sustainability is its forward-thinking nature.  We must meet today's needs without compromising the ability of future generations to meet their needs.
Economic sustainability is the process of achieving economic growth without engaging in the harmful environmental trade-offs that historically accompany growth.  
Social sustainability is about expanding opportunities for all people now and in the future.  Together with economic and environmental sustainability it is critical for poverty reduction and shared prosperity.
Monumental challenges such as climate change, social injustice, and poverty, are inspiring people worldwide to take action and find ways to better their communities and society at large. As efforts to solve these issues have grown over time, so too has the role businesses play in driving social change.
Being sustainable in business means to operate without any negative impact, working in the best interests of the local and global environment, community and economy as well as a healthy planet.  These practices do not have to be at odds with business goals; sustainability done right should align profits with people and the planet.  This is the foundation of Corporate Social Responsibility (CSR).
People, Planet, Profit
The "triple bottom line" of people, planet and profit is a term relevant to business decision making. Rather than making investment decisions purely based on expected returns, investment decisions are increasingly considering environmental and social returns as factors.
People: these include employees, families, customers, suppliers, communities, and any person influencing or being affected by the organisation.  The positive and negative impact that an organisation has on all stakeholders must be considered.
Planet: the impact that an organisation has on its natural environment must be considered and negative impacts reduced while positive effects are amplified.
Profit: in order to continue trading a company must make a financial profit, however the meaning of profit here refers to the impact the organisation has on the local, national and international economy, including creating employment, generating innovation, paying taxes and other economic impact.
The triple bottom line intends to provoke deeper thinking about the future of capitalism with a focus on breakthrough change, asymmetric growth (with unsustainable sectors actively side-lined) and increased consideration of next-generation market solutions.  
Benefits of sustainability in business
As well as helping to curb global challenges, improving the environmental sustainability of a business can drive success.  Some sustainability targets will result in immediate reduced operating costs, such as a reduction in energy and water usage.  A change in packaging strategy may lead to lower packaging costs and logistics charges.  In the long-term, policies such as ethical sourcing, carbon footprint reduction, philanthropic donations, supply chain codes of conduct and many others, demonstrate a company's commitment to corporate social responsibility which can in turn lead to improved reputation, competitive advantage, talent attraction and retention, innovation, operational efficiency and ultimately an increase in the bottom line.
And business really can make a difference within society.  Companies offer fresh ideas and scalable solutions to society's challenges; exactly what is needed to create a better world.
According to a 2017 study carried out by Forbes, 92% of customers will be more likely to trust a company that supports social or environmental issues.  More recently a 2021 study found that almost a third of small and medium-sized businesses in the UK have no plans to become sustainable.
Where do we start?
For a business to be environmentally sustainable and to bring about social change, we must identify the core values that motivate us to act. Those values are often focused on issues such as climate change, poverty, and other pressing social and environmental challenges.  It is also important to ensure that the commitment to social responsibility is embedded within our business operations.
Whether identifying improvements in current operations, cost-effectively integrating new technologies to existing processes, or innovating processes, the approach to sustainability is best undertaken with extensive understanding, planning and knowledge.
Even the smallest changes make a difference.  If there is a lack of resource then start small and make affordable changes; this is better than doing nothing.  If there is a lack of focus then narrow the focus to one or two key issues that will have the biggest impact and expand on this when the time is right.
Large-scale change doesn't happen overnight. Solving the world's major social and environmental problems takes time and effort. But with a purpose-driven approach to business, companies can help create a more just and sustainable future.
What are our sustainability goals?
AMS Instrumentation & Control Ltd are measuring our impact as a small business by using two international frameworks for measurement. These are a Carbon Footprint to help us align with Cornwall's challenge of becoming net-zero by 2030, and the UN Sustainable Development Goals to help us to monitor our wider impact on the world around us.
In 2020 we started to measure our carbon footprint and have subsequently created an Impact Report that sets out our ambitious plans to generate further reductions over the next few years and ensure that we can move forward with environmentally sustainable processes.  More details are available in our carbon footprint blog and on our impact report.
At the end of each year we offset our carbon footprint by investing in environmental projects.  We offset double the amount of carbon used as offsetting can be inaccurate and it's important to offset no less than we emitted on our way to net-zero.
In addition to monitoring our environmental sustainability we are also considering our impact on a wider framework.   We already have systems in place to encourage volunteer work and support a number of local charities.  We are expanding on this by using the United Nations' Global Compact guidelines for business sustainability and considering the Sustainable Development Goals (Global Goals) when looking at all aspects of our business operations.
To begin with we are focusing on the following goals:
SDG7 – Affordable and Clean Energy
SDG8 – Decent Work and Economic Growth
SDG9 – Industry, Innovation & Infrastructure
SDG12 – Responsible Production & Consumption
SDG13 – Climate Action
Some of the tasks that we have set ourselves in addition to reducing our carbon footprint are:
Publication of our Impact Report
Join the SME Climate Hub
Create an advisory board for sustainability guidance
Create a Supplier Code of Conduct that includes specifics on the above goals
Create space and time for our employees to promote petitions on things they care about
Complete a climate related risk assessment
The UN Global Compact provides a universal language for corporate social responsibility and provides a framework to guide all businesses regardless of size, complexity or location.
Working for the greater good starts with leading by example.
Stay up to date with our monthly newsletter
Check out our latest blog articles…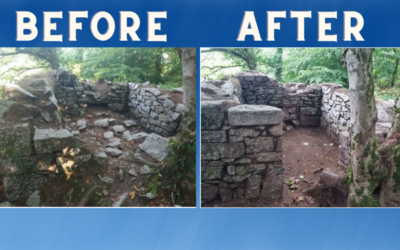 Crib Hut Heritage Conservation ProjectThe team at AMS Instrumentation & Control Ltd all have the option to take a week's additional paid leave to do charity work if required, so when the opportunity arose to volunteer with the Cornwall Heritage Trust to conserve...
read more